News
Read the latest news about Peter Weldon Iron Designs.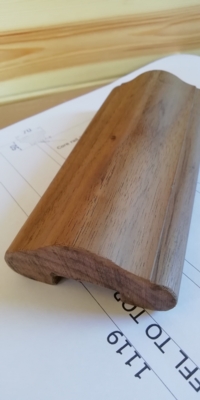 An exciting new project in Central London for three floors of hot forged ornate balustrade with 70 plus meters of mahogany handrail.This is a private client who wishes to remain anonymous hence no images.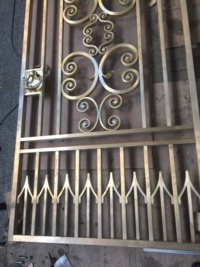 We have nearly completed installing several items in architectural bronze for a private residence in Surrey. Beautiful items for the interior and exterior, all ready for patination by a specialist after installation.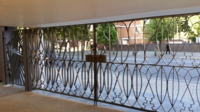 A unique pair of gates plus pedestrian gate for St Peters Church, Battersea, London. PWID worked closely with Richard Kindersley ( http://www.kindersleystudio.co.uk/ )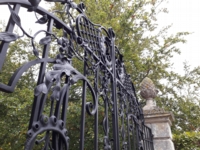 PWID was asked to replicate a pair of early Italian wrought iron gates at Heale Garden,Wiltshire https://www.healegarden.co.uk The originals were brought over from Italy by landscape gardener Harold Peto in early 1900 and were a fine example of intricate wrought ironwork. Unfortunately the gates were stolen and...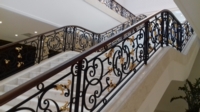 This superb galvanic gilded staircase with 24 carat gold and a walnut handrail is now completed and installed at the Aston Hotel Gardens in Varna, Bulgaria. Please see our web page Aston Hotel Gardens.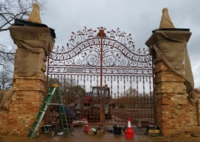 A pair of stunning gates for a rare breed farm based upon our La Pommeraie gates.The bespoke motif on the overthrow hints at the nature of the farm and the gates were finished with a rust effect.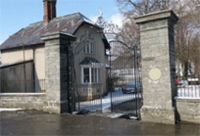 A large country estate in North Wales needed replacement gates after an unfortunate lorry incident damaged the originals. Peter and Aquairon reproduced the gates faithfully including the unusual crest on the overthrow. The gates are 14 ft wide and over 15 ft to the highest point and have 24 carat gold ornamentation....
Peter was asked to increase the height of a pair of existing gates and the width by adding one extra vertical section.The fixed panels left and right were moved towards the brick pillars and accommodated by a slot cut into the brick.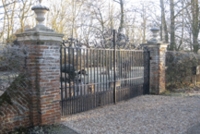 The latest image of the Cambridgeshire Gates looking particularly stunning on a bright morning.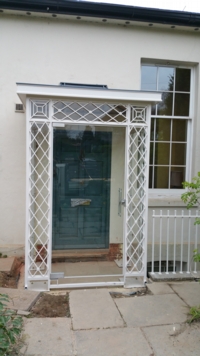 Peter and his team are nearing the completion of a canopy porch installation in Surrey. This glazed porch has a timber internal roof and a glass door to make the structure completely weatherproof.There is also a small run of railings to the adjacent light-well. More images will be available when the installation...
See our news archive