News
Read the latest news about Peter Weldon Iron Designs.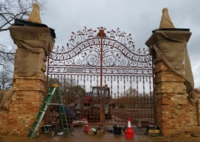 A pair of stunning gates for a rare breed farm based upon our La Pommeraie gates.The bespoke motif on the overthrow hints at the nature of the farm and the gates were finished with a rust effect.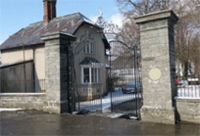 A large country estate in North Wales needed replacement gates after an unfortunate lorry incident damaged the originals. Peter and Aquairon reproduced the gates faithfully including the unusual crest on the overthrow. The gates are 14 ft wide and over 15 ft to the highest point and have 24 carat gold ornamentation....
Peter was asked to increase the height of a pair of existing gates and the width by adding one extra vertical section.The fixed panels left and right were moved towards the brick pillars and accommodated by a slot cut into the brick.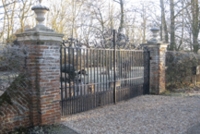 The latest image of the Cambridgeshire Gates looking particularly stunning on a bright morning.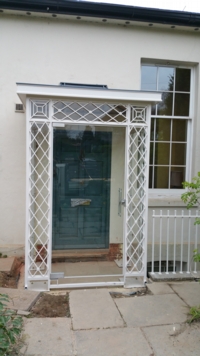 Peter and his team are nearing the completion of a canopy porch installation in Surrey. This glazed porch has a timber internal roof and a glass door to make the structure completely weatherproof.There is also a small run of railings to the adjacent light-well. More images will be available when the installation...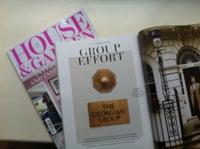 For the first time ever, The Georgian Group opens its Fitzroy Square townhouse for a public exhibition. 2 - 25 February www.georgiangroup.org.uk This 80th Anniversary celebration promises to transport the visitor into a world of craftsmanship, beauty and design. Peter and Aquairon's sample ironwork was on display...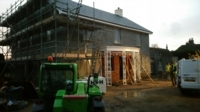 Peter has designed and installed an unusual arched canopy porch for a substantial new-build family home in Sussex. The clients chose a delicate off white for the finish. We await the completion of the house and the final images.
The installation of the handrail at Berkswell was completed before Christmas under the Norman arch between the chancel and the nave. Alastair Dymond (Assistant Church Warden) who commissioned the work said: ''IT LOOKS FABULOUS! Terrific job.Thank you so much for fitting it all in before Christmas...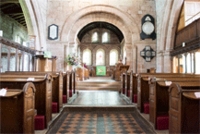 Peter and Louise made a site visit to survey the chancel steps in St John's Baptist Church in Berkswell, Coventry. A handrail is needed between the chancel and the nave to offer support for worshippers. This 12th Century Grade I listed church attracts 100,000 visitors each year and is a significant historical...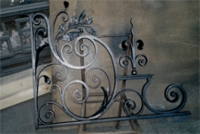 Peter has been approached by The Georgian Group to loan a sample of work as an example of an authentically made item.The Splendour! Creation by Craftsmen exhibition to be held at the Georgian Group during February 2017.
See our news archive