Giant steel bumble bee Sculpture- Canvey Island, Southend on Sea.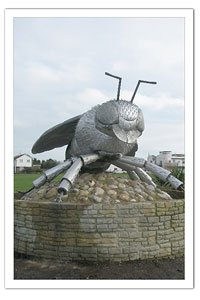 Galvanised and painted steel
Castlepoint Borough Council required a focalpoint sculpture for their 'Bumbelbee park'. Labworth park has been designed to encourage endangered bumblebees through selective bee-friendly planting. A redundant fountain seemed the obvious elevated position for this giant steel bumblebee designed by Peter Weldon.
The 300 kilo beast was carefully lifted using a special cradle. It was then manoevured into position and fastened down with pegs grouted into the concrete beneath. Now installed the sculpture will be surrounded by dense planting.
The bee appears to have landed for a moment in the middle of the park and is visible from a considerable distance.
It has a wingspan of 2650m and body length 2534mm. The surface is densely textured by the thousands of hammer indentations required to form the steel into the shape.