Design service
It can be hard to find suitable ironwork for a period house. Poor design, hollow sections welded together and the repeated use of component parts from catalogues are typical problems found in modern steel work. Our ironwork is very different both in quality and design. We offer a wide range of period designs to choose from ensuring a bespoke item is created just for you. We can also tackle very complex jobs as well as recreate the most detailed of period designs.
Step one: The Brief

You may have a clear idea of what you want but if not we can help with ideas, using archive reference books and also our extensive portfolio of designs, photographs and samples of ironwork.
The Grafton gate was designed by Louise and the client and the following inspiration sheet created by Louise was the starting point.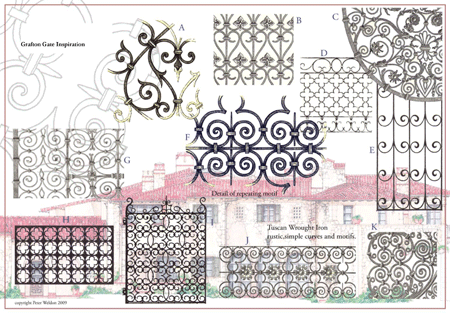 Step two: Design
If necessary we usually arrange a site visit to take precise measurements and to understand your requirements better. We'll then send accurate freehand sketches or computer-aided design drawings to you for approval. We also offer 3D render images which show a photo-realistic representation. The following 3D image shows a balcony for an overseas client.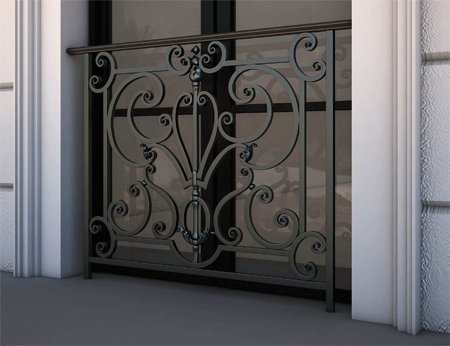 Step three: Sketches and Photo-montage
We find it particularly useful to provide a photo-montage of the ironwork in situ. This scale replica of the design helps you visualise how it will look after installation and can also be useful in any planning applications. Using Autocad, we can also check every dimension of the design before we begin manufacture. Also popular with clients are our pencil sketches which enable us to explore ideas with you quickly. Scroll down for example of our design work.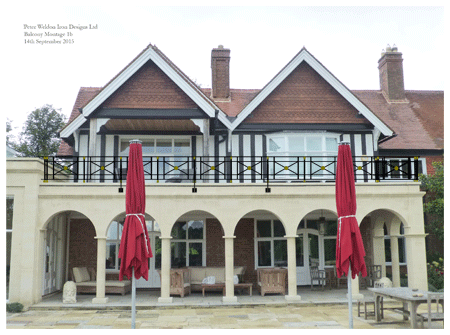 Case study- to follow shortly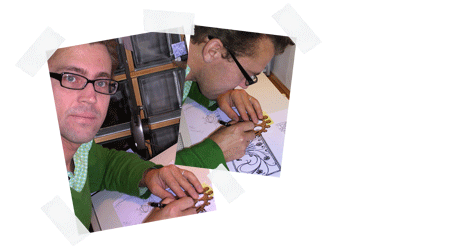 Peter Weldon
Peter Weldon uses programmes such as Photoshop and Autocad but enjoys styling designs with pencil and paper most of all.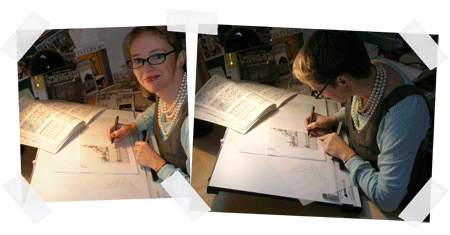 Louise Weldon
Louise's previous career as a pattern designer for Spode China, Stoke on Trent, makes her a valuable asset when creating beautiful patterns for Weldon commissions.