Hurley Hall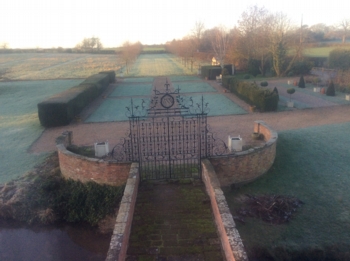 We were recently reminded of a project from seventeen years ago when the client contacted us to say-
Dear Peter,
I hope you are keeping well. From the look of your web site you are doing interesting work and have gone from strength to strength. I will always be grateful for the Gates you did for me at Hurley Hall which now feel as though they have always been here.
The original brief was a Commission to replace the gates for Hurley Hall, Warwickshire.
The current owner of Hurley Hall had been looking for a designer to replace his gates for a long time, having had full planning permission for over 5 years. He saw one of my adverts in the period house and restoration magazines and contacted me to tackle the task.
The project is unusual in that there is a rare photograph of the gates taken before they were removed at the turn of the Century.
A faithful replica was made and installed just as the gates were when first made.