A rolling balustrade for The Whins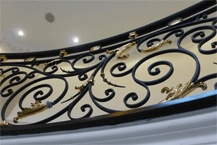 In 2013 Peter was approached to assist in the design of a major staircase for a Cheshire property. Peter and Aquairon created a rolling balustrade with foilate scrolls, polished bronze leaves, roundels and collars and a partially hand-stitched leather handrail.
A sample section of balustrade was made by Aquairon for approval by the client before manufacture began. The sweeping staircase adds to the grandeur of the marbled entrance hall and once again displays the combined talents of Peter Weldon and Aquairon.