Rent a bandstand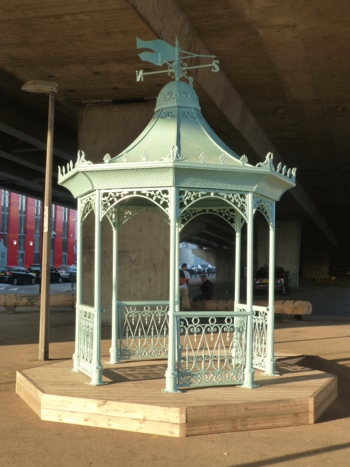 Peter Weldon now has a bandstand available for rent for special events.
The idea arose after Newham Council Regeneration Team rented a 9ft miniature bandstand from Peter Weldon for a public event. Painted in an eye catching turquoise blue, it formed the centrepiece for public entertainment events during the autumn.
The council was so pleased with the outcome that it is keen to rent it again next year. And so the idea for bandstand rental was born.
Working with Aquairon, Peter will soon be able to offer bandstand designs of various sizes that can be assembled easily and are ideal for a council, corporation, business or private client wishing to hold an outdoor event with an impressive undercover area.
Peter's team will deliver, assemble, dismantle and remove the structures, making them very convenient and easy to hire.
Please visit News again in the next few months for updates.