Bandstands: An Overview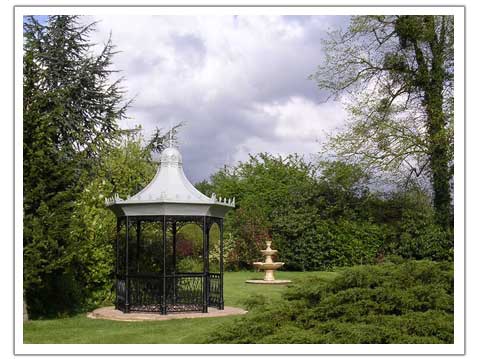 Bandstands are substantial and striking architectural structures.
See below for some examples of our work.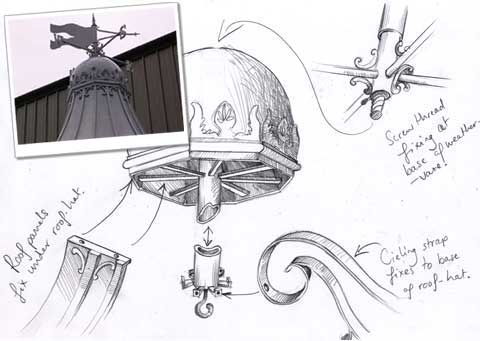 Description


This eight-sided bandstand is designed and ornamented in Victorian style after an original 18th century piece. It is surmounted by a weathervane and features railings along seven sides, with an open entrance at the front of the bandstand in the eighth. An internal guttering system directs rainwater from the roof down the hollow posts. Scrolled wrought iron straps form the ceiling, meeting at a centrepoint inside the structure, and a power supply may easily be installed. Supplied in component form.

Materials
Wrought and cast iron. Sheet steel for roof.

Dimensions of the item shown

Height to top of weathervane: 18 feet

Weathervane height: 2ft

Footprint (post to post diagonally): 12ft

Railing height from ground: 3ft

Post height: 8ft

All measurements are approximate.

Weight: 1500-2000 kilos

Finish: Painted to customer's preferred colours

Installation Guide

The bandstand can be transported in a Luton sized van. From experience, we recommend that two physically fit people take two days to construct this particular item.

The bandstand should be erected on a flat base (such as slab or concrete) which should be prepared in advance. A base can be designed to relate to the bandstand shape. Scaffolding is required to build the piece. A Hi-ab crane (or similar) is recommended to lift and fix the roof in place.





Customer Testimonial
"Peter and his team have designed and installed a fantastic range of iron features to complement my new garden landscaping. Two matching seats, sited at our feature lily pool, and a magnificent purpose-built tree seat for our 60-year-old walnut tree, have given the garden a real presence.
"However, the 'pièce de résistance' is our new bandstand. This all metal centrepiece replaced an old wooden structure which had seen better days. Now the new bandstand is the highlight of our garden, giving wonderful, elevated views of the house and neighbouring fields.
"The quality of the workmanship is first class and the delivery and installation were both timely and on budget. Peter's work cannot be bettered in the UK."
Roger, The Old Rectory
Worcestershire